LANGUAGE QUALITY ASSURANCE AGENCIES MEET IN WASHINGTON FOR THE THIRD QALEN SYMPOSIUM
September 20, 2016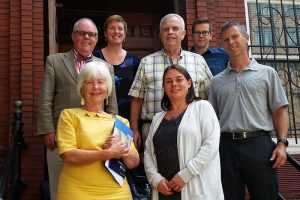 Representatives from five countries and eight language quality assurance agencies gathered in Washington, DC from September 8-10, 2016 for the third annual symposium of the Quality Assurance in Language Education Network (QALEN).
Founded in 2014, QALEN's objective is to "provide opportunities for participants and members from accrediting and quality assurance bodies in the language education sector to communicate and collaborate within a safe supportive environment." The participants focused on a number of topics of current interest including the care of minors attending short-term language programs, building effective dialog with government agencies, the impact of world events on quality assurance efforts, minimum qualifications for language teachers and academic managers, as well as establishing and assessing quality curricula. The event provided the opportunity to compare notes, share ideas and discuss best practices. As outputs from the symposium, QALEN will be working to aggregate members' best practices on the care and welfare of minors, as part of the Duty of Care covering all students, as well as documenting appropriate teachers' and academic managers' qualifications.
Those in attendance included the host ACCET – the Accrediting Council for Continuing Education and Training (USA), ABLS – the Accreditation Body for Language Services (UK), the British Council (UK), English New Zealand (NZ), Languages Canada (Canada), NEAS – the National ELT Accreditation Scheme (Australia), and Orion Assessment Services (Canada). CEA – the Commission on English Language Program Accreditation (USA) participated as a non-member guest. FELTOM – the Federation of English Language Teaching Organizations (Malta) and EDU SA (South Africa) are also QALEN members but were unable to attend. The next QALEN symposium is scheduled for November 2017 in Auckland, New Zealand.